| | | | | |
| --- | --- | --- | --- | --- |
| [ | mood | | | sleepy | ] |
Valentines day doesn't have to be all about "couples." Valentines day is just another opportunity to show the people you Love how much you Love them. Everyday should be Valentines day.. wouldn't that be nice??
I started off my morning by getting up at 7am to make Andrew brownies and drop them off before his practice. They turned out perfect and I didn't burn them one bit! (This is a very good thing for me). Later I met the girls for lunch and we did stupid cupid (Basically Secret Santa but for Valentines day!) I had Lindsey E. and I got her a cute throw blanket from target with hearts on it and a little mrs. fields chocolate heart thing. Erika had me and got me two cute lipglosses and nail polishes. =)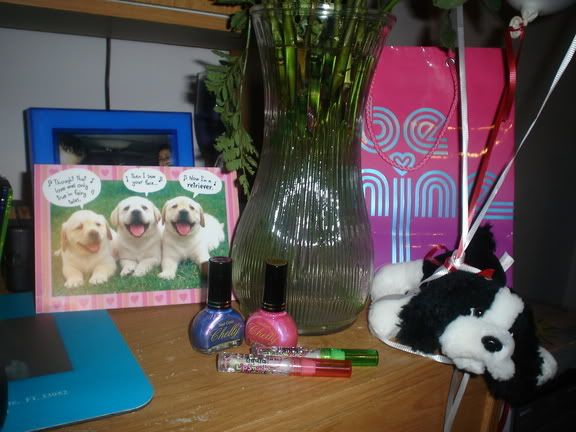 My mom got me a cute card and Andrew got me the cute doggy. (Erika got me the cute bag). So in Andrews classes today, I left an envelope in each filled with a candy. Also, I left slips of paper that formed a note. (Example: First hour= I will Love you... Second= Forever... Third=I will Love you... Fourth=For Always... Five=As long as I'm living, Six= My baby you'll be).. He surprised me with a dozen pink roses,3 balloons, and a little puppy animal. :-D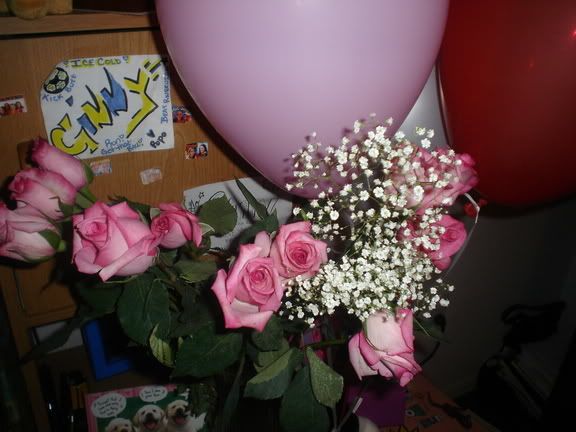 Anyways....... this year is flying by wayyy too fast!!!!! It's almost the end of the third quarter and I REGISTER FOR MY SENIOR CLASSES IN A WEEK. crazy I know... I have to make some extremely tough decisions soon. I don't know what classes to take and what to give up. (what do you mean by "give up?") WELL!
I wanted to take: DC Spanish, DC Composition, and DC Biology next year and I was pretty set on those three. But GUESS WHAT!!?!? Edison has decided to be GAY and enforce the rule that "high school students can only have 11 credits per semester." The rule has supposedly been there for a while but under a new admin, they have decided to enforce it. Their reasoning? With more than 11 credits you are considered a full time college student and Edison + Charlotte cannot both claim a student for federal money. Basically what this means is... I can only take two DC classes next year. How am I supposed to pick between those three??? It's absolutely ridiculous that students can't take the classes they want to take because of federal money. What happened to public education being free??? I am appalled by it and I am going to be researching it greatly so I can fully support my opinion and hopefully challenge it. Yes, I would like to challenge Edisons rule because it is not fair to students like me who can't afford summer sessions... about 900 dollars for DC Bio..... isnt that lovely.
k. goodnight.. Love you all